Last year, Facebook introduced a "helpful" new feature that is anything but helpful. When you stop or click out of a video you were watching, the video player minimizes to the corner of the screen and the video continues to play. Even worse, the minimized player floats with you as you scroll through your news feed. Again, this is after you have indicated you no longer want to watch the video.
Update: Facebook has apparently removed the ability to turn off this feature. The instructions below will probably no longer work. We don't have any recommendations at this time. If you know of any workarounds, please let us know in the feedback for this article!
On your computer
In theory, you can turn this off in your Facebook account settings. We say "in theory" because we've seen reports that it doesn't work consistently. Please note, this setting is available only in Facebook's web interface. As far as we've been able to learn, it isn't possible to turn this off in the Facebook app.
In your desktop browser, open your Facebook account settings and click Videos at the bottom. Change the Auto-Play Videos setting to Off.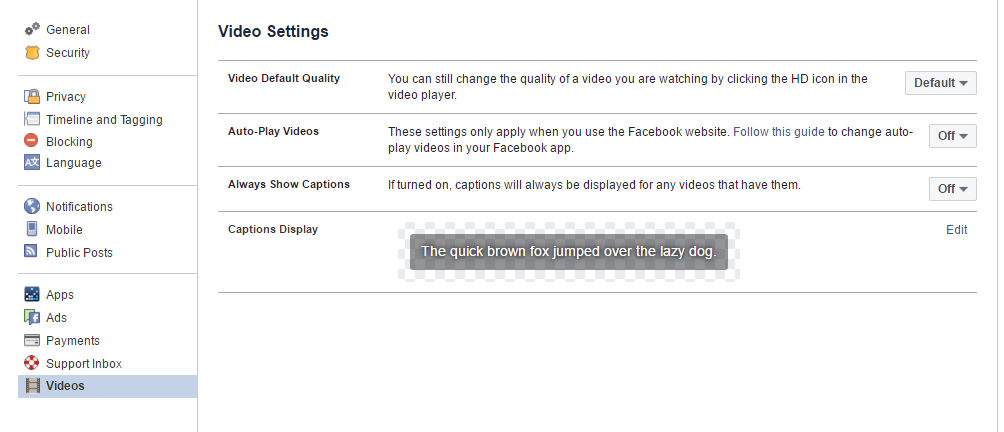 If you use the Firefox browser, you can also try an add-on called FlashStopper. It changes auto-playing videos to a thumbnail preview.
If anyone knows of a similar extension for other browsers, please let us know in the feedback for this article!
What about the Facebook app on mobile devices?
Here's how to adjust your auto-play settings in a Facebook app on your mobile device.
if that doesn't work and you're using an Android device, try this solution from a user in Facebook's community help forum: Open Settings > Applications > Facebook > Apps that can appear on top and turn that setting OFF. After you do this, when you close a video you'll see a prompt like this: "must be able to appear on top for this feature." Select No two or three times and it will go away.
Here's another suggestion we found in a different Facebook community help forum post: To at least stop the video from playing, try swiping the video off the screen to the right. We're not sure if this is for Android devices only or if it will also work in Facebook's iOS app. Let us know in the feedback and we'll update this article.
What about auto-playing videos on other websites?